Remove Invalid Autoplay Entries from PC with Autoplay Repair
Autoplay Repair is a free system utility tool that helps you to remove autoplay entries from your registry. Usually when we remove media players from our PC our PC repeatedly forces us to use that removed program as it left some autoplay entries in the registry. So if you want to get rid of these entries this free system utility is what you are looking for.
You can find and delete invalid autoplay entries completely from your PC with the help of this free autoplay entry removing tool. You can find installed autoplay handlers for DVDs video and audio files images audio CDs and other contents easily. You can remove modify these handlers all by yourself. You can also think about removing autoplay feature completely for certain drives. All the functions available with this freeware were good but the cleanup process is quite confusing.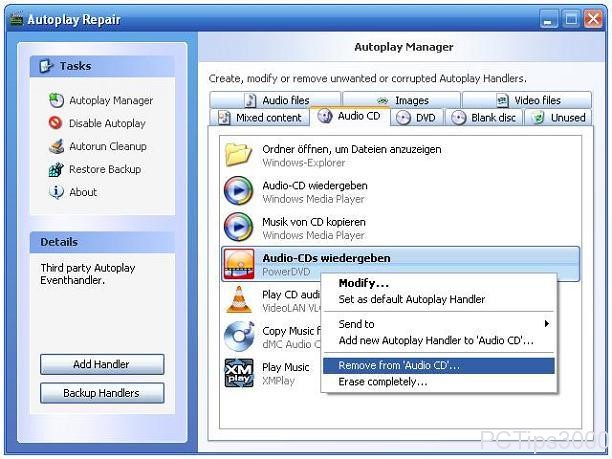 The features of Autoplay Repair are quite attractive but the interface is nothing attractive. You won't find any useful documentation or instruction to use the software and users who don't have any idea about using this kind of software will face a lot of problem when using this freeware. The only instruction available in the software is about its drag and drop interface. But it's a good software overall for people who wants to remove invalid autoplay entries from their PC.
Features of Autoplay Repair:
Remove unnecessary invalid autoplay entries
View the installed autoplay handlers for various files with Autoplay Manager
Autoplay Repair is available for download at OrangeBlue's official website. It's only 204KB in size and supports Windows. Try Autoplay Repair Free