Download and Manage Torrent Files with uTorrent
uTorrent is a powerful BitTorrent client designed for Windows PC users. It is very small in size but still efficient and powerful. Most of the features that the users want to see in a BitTorrent clients are available in uTorrent. This free BitTorrent client eats very small memory and you won't even notice any problem when running other memory eating programs with this free BitTorrent client.
You might have noticed that when you start torrenting other programs that are using internet connection starts to respond slowly. But you won't face this problem when using this free Torrent downloader as it comes with uTorrent Protocol. It ensures that you don't face any slow internet connection and slows downloading torrent until you stop working with the other internet programs.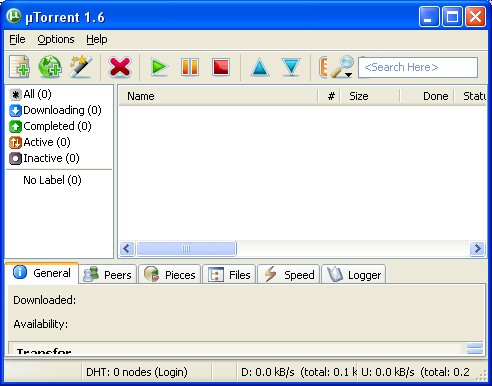 This simple yet powerful free BitTorrent client comes with an easy-to-use interface. You will get RSS auto-downloading bandwidth prioritization mainline DHT feature with this free BitTorrent client. You get remote access to torrent downloads and monitor them on the go. You can send big files to anyone with its easy Drag and Drop sending feature. The latest version comes with a transfer cap for users who have limited internet connection.
Features of uTorrent:
Small in size and powerful for downloading torrents
Uses less than 6MB memory
You can watch a video while downloading like streaming
Monitor start and stop downloads whenever you want
Run uTorrent directly from your USB key
uTorrent is available for download at uTorrent's official website. It's only 624.77KB in size and supports Windows 7 Vista XP 2003 NT and 2000. Try uTorrent Free