Convert Almost Any Document to PDF with PrimoPDF
PrimoPDF is a powerful free PDF creating software that helps you to convert almost any file type to PDF. You can expect to get high quality conversion results and the tool uses print command for converting the files. The process of converting almost any document that you are seeing on your screen to PDF is quite efficient and fast.
It's easy to get used to the latest version of this free PDF creator as it comes with a desktop shortcut where you can drag the files you want to convert and start quick conversion. You will also notice a difference in the performance. You have the freedom to save the PDF file in the same folder or a different folder. You can also overwrite or append a PDF file and edit or create PDF security and other necessary document properties right from its easy-to-use interface. According to the developers the latest version works faster and we did notice the change when launching it.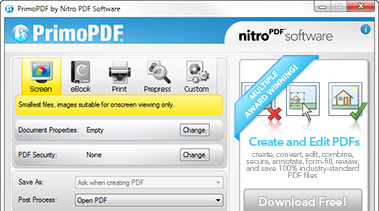 This free PDF creator is quite small in size and the drag and drop icon feature makes it a must. There are four predefined conversion quality settings you can try or you can create your own setting with the custom setting option. Other exclusive features are password protection for PDF files non-TrueType font and double byte character support and easy-to-use interface.
Features of PrimoPDF:
High quality conversion to PDF
Drag and drop icon interface
Four predefined conversion settings and custom setting
Secure your PDF files with 128-bit encryption
PrimoPDF is available for download at PrimoPDF's official website. It's only 7.2MB in size and supports Windows 7 Vista and XP. Try PrimoPDF Free