Download Skype For Free...
... with a bit of a twist as usual! Basically this article about how to download Skype for free should be a few lines long but if you're looking for such a thing on Google I guess you should also know about the platforms that can use Skype and more than just that you should also know a few things about the paid plans/options available. These being said let's take a closer look at Skype and what can you get from it right now in mid-March 2011 shall we?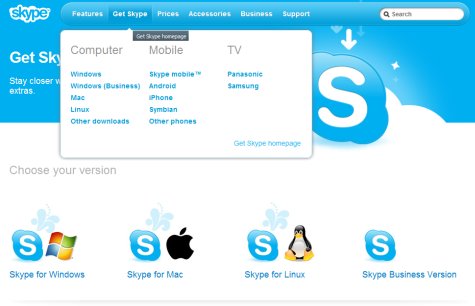 As I write this Skype is available for a lot of platforms including mobile ones and the three major operating systems for desktops/laptops: Windows Mac OS X and Linux. Unfortunately some versions only offer basic text messaging capabilities like the one for Java or Android phones/tablets. When it comes to downloading Skype no Skype download is free - you pay for your Internet connection right? Other than that you can download Skype for free no matter your platform but some features may be available for a price.
For more information on the prices I mentioned earlier please visit this page. At last to download Skype for free just go here and choose your platform then follow the instructions - you can't go wrong unless you really try to do that... so I guess that's all for today folks looking to download Skype for free - are you happy with the result or not? ;)