Internet Explorer 9 Download & Benchmark
About two weeks ago we discussed about the fastest browser you can get for your Windows computer in early March 2011. Now it seems another one comes to reach for the crown... only that it fails miserably. On the other hand Internet Explorer 9 is the fastest Web browser ever released by Microsoft for the masses so we should take a closer look at it but before that in case you missed the article I mentioned above click here. All right we can move on now...
... and start with the most important question for a lot of people: how can you download Internet Explorer 9 and who can get it? The easy answer to that question is www.BeautyOfTheWeb.com a site built by Microsoft especially for promoting this product. So far so good but I must tell you it was really frustrating to visit that site using my Windows XP computer and suddenly realize that I was just about to download IE 8... because the answer to the second question mentioned above is a really tough one - Internet Explorer 9 is only available to Windows Vista/7 users! :|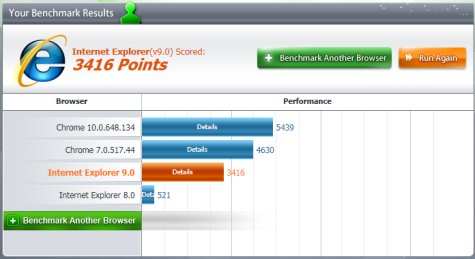 Now the most interesting part of this article - the Internet Explorer 9 benchmark of course! Since today I had to use my laptop and its configuration is slightly different to the one of my desktop computer I also ran Futuremark's browser benchmark to test the speed of Google Chrome 7 10 as well as Internet Explorer 8 on my setup. If you get results much better than mine don't worry - my laptop has a Turion X2 RM-75 processor and 4 GB of DDR2 memory and dedicated HD 4570 video card with 512 MB of memory so only look at the numbers and the difference in percentage between them - that's what really matters!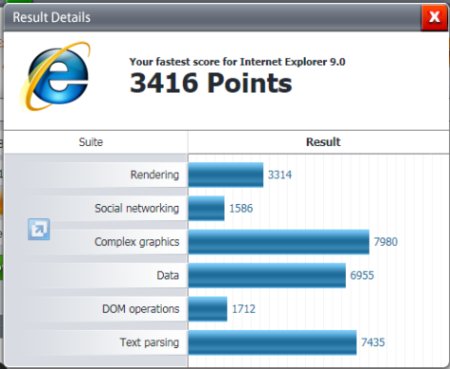 All right so when I ran the test on my laptop using Windows 7 x64 Ultimate I got the following results:
Chrome 7/10: 4630/5439 IE 8/9: 521/3416
Conclusion? Internet Explorer 9 is almost 7 times faster than Internet Explorer 8 but without a single doubt the "fastest Web browser" crown remains in Google's possession. Anyway no matter what some people may say I think that Internet Explorer 9 represents the largest step forward ever took by Microsoft's browser. Unfortunately that's not enough...