Drop That Fake Antivirus, Will You?
Sometimes fake alarms are better than real ones. For example today I managed to wake up around 8AM. Some may say that's late some consider it early but the problem is that I didn't hear the alarm clock ringing at 6... and that's what I was supposed to do. The result is that my wife got late to her office today and the conclusion is that sometimes fake alarms could help (in this case I consider that waking up before actually hearing the alarm ringing is like a fake alarm) but when it comes to computer viruses fake alarms are always something to avoid!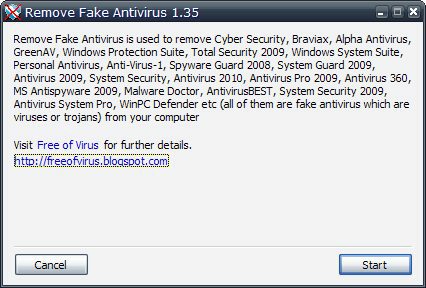 Sure you could say that no antivirus is a complete stranger to delivering false positives once in a while but that's not such a big issue as fake antivirus products are. If you never encountered such a thing that's great but I really got tired of hearing about virus warnings that show up in the Web browser without any reason.
Until now each time my help was needed I told my friends to search for more info about the reported virus on Google and to make things serious to also check the name of the site warning them about viruses/spyware/Trojans. In most cases it was about some fake antivirus product and today I found a great free program that could help you remove such annoyances once and for all namely Remove Fake Antivirus (82.7 kb download).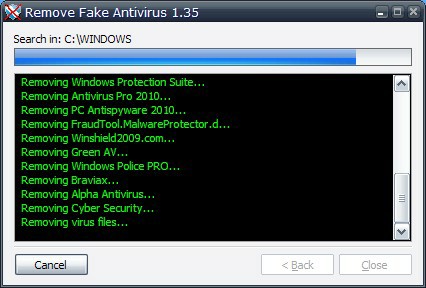 The last version of Remove Fake Antivirus is 1.35 and the guy who made it claims it can clean exactly 27 viruses or trojans that claim to be antiviral tools. Here's the full list: Cyber Security Alpha Antivirus Braviax Windows Police Pro Antivirus Pro 2010 PC Antispyware 2010 FraudTool.MalwareProtector.d Winshield2009.com Green AV Windows Protection Suite Total Security 2009 Windows System Suite Antivirus BEST System Security Personal Antivirus System Security 2009 Malware Doctor Antivirus System Pro WinPC Defender Anti-Virus-1 Spyware Guard 2008 System Guard 2009 Antivirus 2009 Antivirus 2010 Antivirus Pro 2009 Antivirus 360 and - finally - MS Antispyware 2009. Pheew that's quite a list!
Using Remove Fake Antivirus is very easy since all you need to do is download it run it and wait for the cleaning process to complete. Oh yeah you'll also have to reboot the computer once the program gets to the bottom of it but I really hate the fact there's no warning or any other kind of message to let you know exactly what's happening - you only see messages saying the program is cleaning some fake antivirus no matter if your computer is infected or not...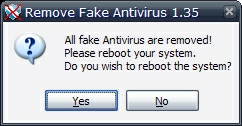 At last you should also save some of your precious time to visit the Free of Virus blog and read about various security tricks discovered by Olzen the guy behind Remove Fake Antivirus. Just for the record - I strongly disagree with the article entitled "Don't disable UAC or your computer will be attacked by malwares!" but that's life - you can't make everybody happy.
Oh yeah one more thing - if the direct link to the executable file doesn't work you can check this blog post for some additional external links (unfortunately there's only one for now). Good luck and stay safe! ;)