Best Fax Machine? A Free Online Fax Service!
I never used a fax and I must also add I had the luck of never being forced to do that. I don't know why but I always considered that using the email phone and even snail mail is better than sending or receiving faxes especially since no matter if you're looking for the best fax machine or not they don't come for free...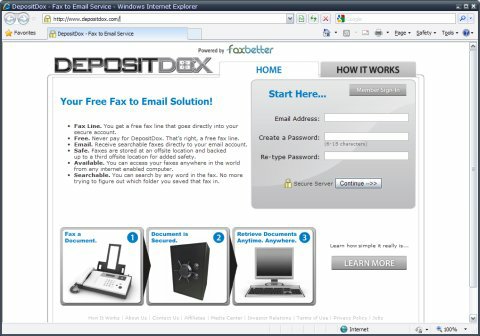 ... but what if I would tell you that the best fax machine you can use to receive faxes is a free online fax service? I know you weren't expecting that and even to me it was a real surprise to discover DepositDox. Why bother with such things after shouting out loud that I never needed a fax? The answer is very simple - there's always someone around in need of some fax services and that someone will get to me sooner or later! ;)
Working with this excellent online resource is very easy - you sign up for your free account and then start using the best fax machine money won't ever buy. Once you have your account ready you can start receiving your documents to a secure fax number automatically assigned when you sign up and those documents will get to your email as PDF files. Sweet!
Unfortunately nothing's free from beginning to the end so if you want outbound faxing capabilities you'll have to pay $5.95 per month but this will also give you 100000 pages storage space (only 1000 available for the free accounts) search features (30 days trial search capability for the free users) and even more storage space for a little additional fee ($4.99 per month for another 50000 pages).
At last it's great to know that you'll get a fax number and the chance to receive faxes as email attachments without paying a single buck and that's what really matters after all - getting the job done properly for the lowest price possible.