DuckLink, Free Screen Capture Utility For Windows
No matter the Windows version you're using there's always something better than the tools included with it at least for most tasks I can think of. While Windows Vista and Windows 7 improved the screen capture process a lot by adding the Snipping Tool I think there's still room for another solution. In Windows XP the tool I found today is simply awesome so please allow me to introduce you DuckCapture a tool coming in a 4.2 MB setup package and compatible with all Windows versions (or so it seems).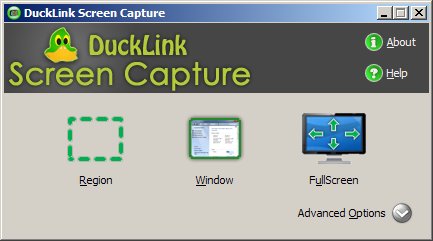 If you can get over the funny text in the first screen of the setup wizard ("This will install 2.1 on your computer.") not to mention the funny name of the application itself you'll be rewarded with a nice little tool that can help you speed up the process of taking screenshots also giving you more control at the same time. Its advanced options include the ability to include cursor in your shots or not select clipboard or a file as output target (or choose a default target to use without prompting) and support for hotkeys while output file formats available are BMP JPEG and PNG - just fine for anyone I think.
This is it my friends - you gotta give this free screen capture tool a try because I am sure you'll love it if you really need to take screenshots on a regular basis and using the PrintScreen key (or combining it with Alt) isn't enough... ;)
P.S. Just fixing that funny text in the setup program and the addition of a freehand selection tool should be enough to make this tool almost perfect!