Easily Create Diagrams and Charts with EDraw Max
EDraw Max is drawing tool which enables users to draw network website and/or organizational diagrams for the industries and organizations of any scale. The software contains several icons and arrows to represent the devices and the workflows as per the requirements. Users can create almost any type of technical or administrative diagram including logical network infrastructure diagram physical network infrastructure diagram workflow diagram organizational charts website diagrams etc. Diagrams created with the help of this application can contain several symbols and arrows which can be collected from different categories of libraries which are shipped along with the software. The application is shareware and free trial version can be downloaded from the official website.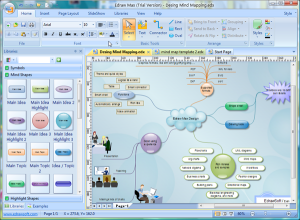 Pros
Highly efficient in creating even complex network topologies and charts within no time.
The drawings can be saved in different file formats.
Printable version of the diagram can also be created if users want to do so.
Every symbol that is used in creating a diagram can be labeled and the label can be placed anywhere around the symbol.
The application proves itself versatile by allowing users to create organizational workflow charts software development and flow diagrams and website diagrams.
Symbols from external files like .bmp .jpg etc. can also be imported in the application if required.
Cons
No cons are experienced while using EDraw Max till date.
Download Link: http://www.edrawsoft.com/