Edit Boot Menu Like Never Before with EasyBCD
EasyBCD is a free boot loader modification tool that let you do a good number of very essential jobs with minimum efforts. If you are facing any kind of trouble related to your boot menu in Windows you should obviously try this free boot menu editor first because its functionality solves a huge number of problems.
EasyBCD has an easy to use user interface with all the powerful features a click away. This is a very user friendly in one point of view but at the same time it is dangerous too. You might make your computer unbootable by just one or two clicks using EasyBCD. Therefore you should be very sure about what you are doing when you are initiating any task from this program. Besides editing boot menu you can also use this boot menu modification tool to make necessary changes for dual booting windows with any distro of Linux or Mac OS X or any other experimental operating system. EasyBCD will save you many times when you will need to format and create new partition every time to add an operating system to your computer. You can also backup your current settings before you make any changes and then restore them later.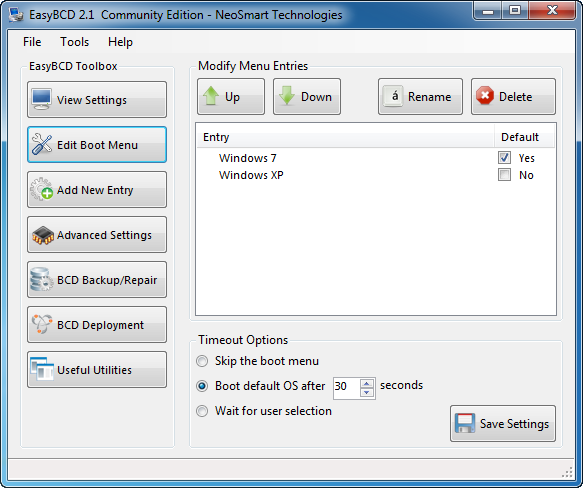 Though using EasyBCD is easy some actions are not reversible resulting infinite boot loop. Therefore before you click the Apply button make sure you know what you are doing. Otherwise like many novice users you will regret using the program.
Features of EasyBCD
Easy to use
All the powerful features are one click away
Faster than any other method of editing boot menu
You can download EasyBCD from the website of NeoSmart Technologies. It is around 1.5MB in size and supports all versions of Windows. Try EasyBCD Free