Educational Games for Kids, Finally!
One of the things I really hate about the Internet these days is spam. No I am not talking about spam you receive in your email but about Google-tolerated keyword/site spamming. What I have in mind now are those countless "Flash games for kids" sites that bring nothing new but only a bunch of games grabbed from some other site all made for the sake of ranking and clicks on ads nothing more. Fortunately today I found something really nice for your kids so here it is... Cyberkidz time!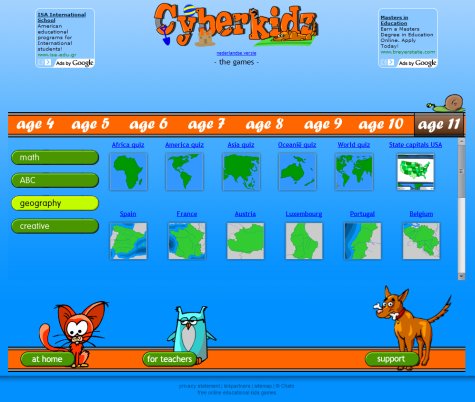 Educational games for kids available here are really cool especially because your kids won't simply shoot ducks dress Barbie and Ken (I genuinely hate all Barbie-related games!!!) or drive cars. While having fun kids will practice math geography or arts not to mention that they'll surely improve their vocabulary and way of thinking. Sounds good enough for you? Good I'm glad so here's the official mumbo-jumbo:
"Cyberkidz is an educational platform for boys and girls in the age of 4 till 12 years. By playing the educational games children will practise the subjects learned in primary school (math literacy geography arts music)."
That's all for today folks I really hope this will help you guide your kids on the right path when it comes to fun on the Internet. Hey you can even have some fun with these games yourselves if you're really THAT BORED... ;)