What's strange with the system troubleshooting CDs is the fact that you never have enough of them. How's that? Think about data recovery for example - you never know which software tool will be able to revive your defective hard drive despite the fact you did this a hundred times already so all that you need to do is try try try again. Hopefully you'll get lucky sooner or later...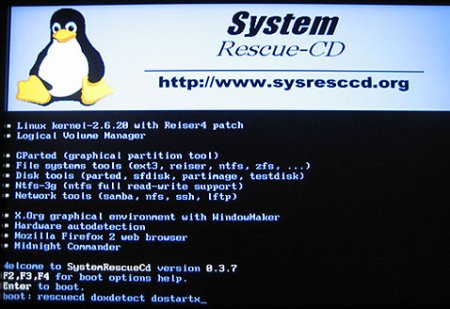 ... but since everyone is looking for freebies these days let's move on straight to System Rescue CD (SystemRescueCD if you want). What about it? Oh well you can run it from a CD or even some USB stick as long as your system is capable of booting from such a device (if it's not really ancient that shouldn't be a problem) and if you want to download the latest version you should go here.
The official mumbo-jumbo looks like this: "SystemRescueCd is a Linux system rescue disk available as a bootable CD-ROM or USB stick for administrating or repairing your system and data after a crash. It aims to provide an easy way to carry out admin tasks on your computer such as creating and editing the partitions of the hard disk. It comes with a lot of linux software such as system tools (parted partimage fstools ...) and basic tools (editors midnight commander network tools). It requires no installation. It can be used on linux servers linux desktops or windows boxes. The kernel supports the important file systems (ext2/ext3/ext4 reiserfs reiser4 btrfs xfs jfs vfat ntfs iso9660) as well as network filesystems (samba and nfs)."
If you're not scared of Linux you should grab this at once. After all you can easily troubleshoot Windows-based systems with it and there's plenty of documentation for beginners. Oh yeah and I should also remind you that we're talking about a freebie don't you think? That's all folks good luck! ;)