Enable Automatic Updates for DNS Server in Windows Server 2008
During the installation of DNS server in Windows server 2008 there is a page that asks the administrators if they want to enable dynamic updates for DNS server which by default is disabled. When dynamic updates are enabled for DNS server any DNS client can automatically register its IP address to the database of the DNS server. When the industry is more or less small scale this default configuration would be quite appropriate as administrators can create Host (A) records for every DNS client involved in the infrastructure. However when the network setup is large and it is practically impossible for the administrators to create records for every host configuring the DNS server to automatically update with the records of DNS clients becomes an essential part. As an administrator if you want to configure this you are required to follow the steps given below:
1.       Make sure that you are logged on to Windows server 2008 with Administrator account.
2.       Open DNS Manager snap-in by pointing the mouse to Administrative Tools and selecting DNS.
3.       On the opened snap-in from the left pane expand Forward Lookup Zone and right click on the available the zone.
4.       From the available menu go to Properties to open a new properties box.
5.       Make sure that you are on General tab and from the available drop-down list of Dynamic updates choose Nonsecure and Secure option.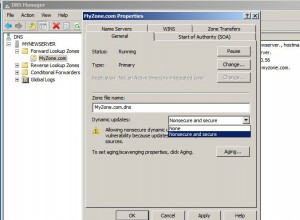 6.       Finally click on Ok button to save the changes and close DNS Manager snap-in.