Enable Remote Connection in Windows 7 Home Premium
Windows 7 is a great operating system. It is ∞ better than Vista and in my opinion can replace perfectly Windows XP. When i upgraded my Windows Vista license I had to choose what version of  Windows 7 I prefer. I compared all the versions of Windows 7 and I thought that Windows 7 Home Premium is perfect for me. But... Always there is a but...I didn`t saw that in Widows 7 Home Premium i don't have something i need now: Remote Desktop Connection. This way i can't connect to my computer using remote desktop connection.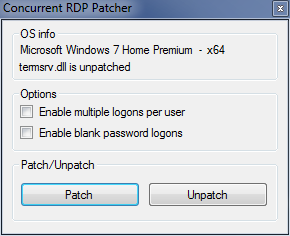 First I wanted to buy another upgrade from Windows 7 Home Premium to Windows 7 Professional. But i was searching for free solution and i found one on The Green Buttons forums. Concurrent RDP Patcher was made to permit concurrent remote desktop connections. This way multiple users would have the opportunity to  connect to a single user on a computer. But also this enables the Remote Desktop Connection in Windows 7 Home Premium.
Don't forget that you can connect only with a user account that has a password. Remote Desktop Connection can't be used with a user account with a blank password. If you still want to connect without setting a password to the account you should check "Enable blank password logons" checkbox.
Another great thing about Concurrent RDP Patcher is that you can always revert the changes by clicking the Unpatch button.