File Sharing Software - The Bad
If we want to talk about all things related to file sharing software then we shouldn't forget about scams because I read a lot of articles/series on this topic and this is a subject usually left behind or barely mentioned. While I can't claim I will give you a comprehensive guide on how to avoid the bad and the ugly ones of the file sharing software world at least I know I'll do my best to tell you about the things you should keep in mind to stay away from such programs and get a better idea of the whole picture.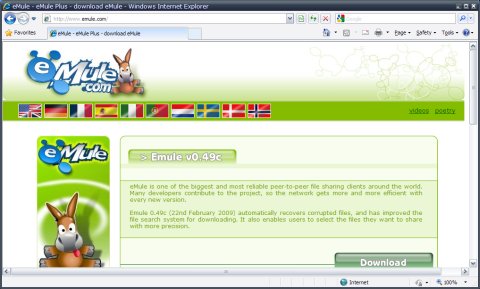 Before moving on let me say once again that I am really sorry for not getting back to the Torrents and P2P series last week but you'll see that it was worth to wait for this episode. Just take a look above for example... eMule's official page right?
Nope not really NO!!! That site in the screenshot is a well done scam since the domain used is eMule.com and the current version of the eMule software available there is the same as the official one 0.49c. To take a look at the original stuff you should see the previous article in the series.
As a little interlude let me say this - I think one of the safest approaches to this is to take a look at the Wikipedia.org page for the file sharing software you want to start using and you'll surely get the link to the official page as well as info regarding bundled adware/spyware (for example take a look at the Wikipedia Kazaa page and you'll get the idea).
Moving on we have Shareaza.com and PantheraProject.com both being exactly the same with the second one (shamefully) listed as first result by Google when looking for Shareaza... The whole story of the domain takeover can be found on Wikipedia but here I will stop at saying that Shareaza V6 is NOT the original thing. Since we didn't talk about it last time let me tell you that the original Shareaza page is now hosted by SourceForge.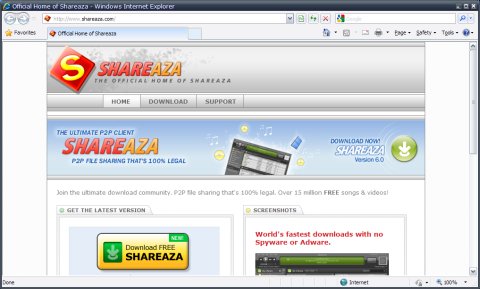 Regarding DC++ I have no idea about scammy pieces of software developed using it as foundation but I know about completely outdated spinoffs that are still widely used oDC++ and LDC++ being only two of them. Anyway there are plenty of fake files and viruses to avoid on the Direct Connect network... so that should be enough! ;)
To end this properly let me tell you about the things about what a "good" file sharing site/software will NEVER do - "Lifetime membership for downloading free content" or paid downloads for pretty low rates (if iTunes sells tracks for $0.9 how in the world one can imagine that paying $0.5 for an entire album released yesterday by a big artist can be anything else but a big scam???) that's the first thing to keep in mind!
At last here's a good list of file sharing scam sites I run into earlier. If you find anything useful to add please don't be shy and drop a comment below all right? Thanks in advance! ;)