I like people who keep the faith no matter what but I also think you shouldn't be faithful to any piece of code because you could miss a lot and Winamp/Windows Media Player vs. the world is a good example. This time I won't get that far but we'll talk about something even more popular than the audio/video player and that is the PDF reader...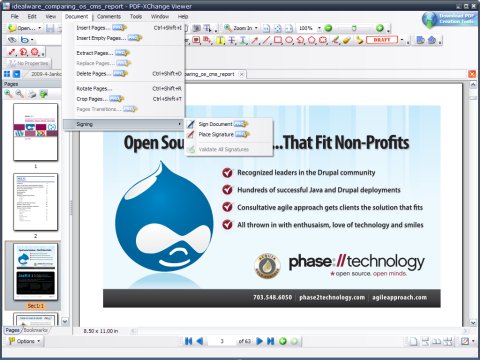 ... that system utility one can't live without especially since any document you can think of comes in this format (for example I got a CD with some video tutorials and a PDF manual for a hair cutter!). Unfortunately most PDF manuals coming on some CD/DVD also have Adobe Reader with them and most unexperienced computer users will install that one and live happily ever after... or not!
Why not? The answer is very simple - it's natural to always look for a better job a better house and even better software tools in this case. Some may say it's good to settle down but I say it's just human nature and nothing more. If it wouldn't have been this way we would probably still live in caves... but let's get back to our PDF reader now shall we?
For a pretty long time I used Adobe Reader without even trying to find a replacement. After all why replace it? It's free it has all the features I need... but with some of the latest versions I also noticed that this tool starts to "eat" more and more system resources so discovering Foxit Reader was simply a natural step forward. Now the time has come for PDF-XChange Viewer a PDF reader that seems to be at the next level...
... but let me tell you only this: PDF-XChange Viewer is available for all popular Windows platforms including the 64 bit ones you can even get a portable version (exactly the one I currently play with) and if you really need features like extract/delete pages or document signing then you will have to purchase a license. Other than that this program is an excellent PDF reader with all the features one needs to enjoy some PDF files.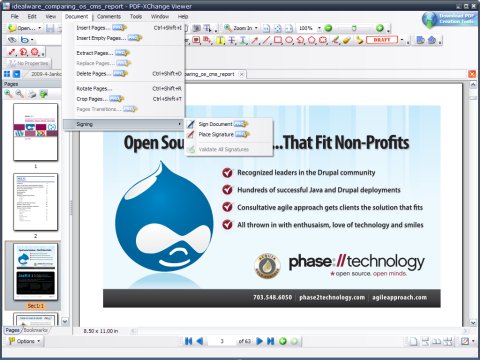 The free PDF-XChange Viewer comes with a lot of useful features and I will only mention the ability to export PDF pages to image files (A LOT of formats supported!) multilanguage availability improved JPEG2000 support a full JavaScript engine or text extraction. Sure this is only the tip of the iceberg but I just can't tell you anything else.
I know the last phrase above may be strange so let me explain - I didn't sign any NDA with the company behind this product it's only the fact that I really have to play with PDF-XChange Viewer some more maybe I'll take another step forward and leave Foxit Reader behind. My final advice is to go ahead and try it for yourselves it never hurts to have a good PDF reader around! ;)