FireAlpaca: Free Image Editor
FireAlpaca is a free image editing tool that helps you to show your creativity on your PC. This freeware comes with various unique features for hand drawings and image editing that makes this freeware better than most of the free and premium image editors out there. Let's see if this freeware can really attract the Photoshop users or not.
If you are not interested to spend any money but still want an image editor with premium image editing like features FireAlapaca is the best option for you. You can easily open images that you want to edit and try different operations on your selected image. You can merge different layers on it change color or apply shades. This freeware supports exporting images to different file format including Bitmap JPEG PNG and PSD. This free image editing software supports opening and editing PSD files which is a really great feature of this freeware.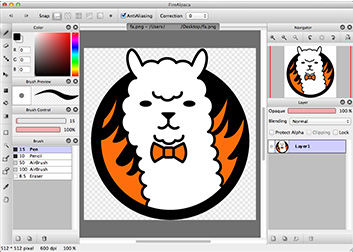 This free image editor comes with an attractive and user-friendly interface. If you are using a Wacom tablet you will be happy to know that it works well on Wacom tablets. If you love playing with new image editors you are going to love this freeware as you can create great illustrations or comics using this freeware. Overall it's a great software for editing images or for creating image elements and pasting them in other images.
Features of FireAlpaca:
Simple easy-to-use image editor
Easily edit your images or just create your own image elements
Comes with attractive image editing features like premium apps
FireAlpaca can be downloaded from FireAlpaca's official website. It's only 9MB in size and supports Windows XP or higher. Try FireAlpaca Free