Vista Services Optimizer: Free Tweak Software
Vista Services Optimizer is a free system utility that helps you to tweak Windows services smartly and safely. If you are using Windows Vista or 7 and want to improve its performance by optimizing it Vista Services Optimizer is the best option for you. Let's see if this freeware can really make our PC fast.
Sometimes we install some services that are not really necessary but still starts when we start our PC. While some people know how to turn these services off or configure startup settings some people are still unfamiliar with these tweaks. So if you are among these people and don't know much about how to turn these services off Vista Services Optimizer is here for you to help. Turning off these services can make your PC work faster and it will also take less time to boot.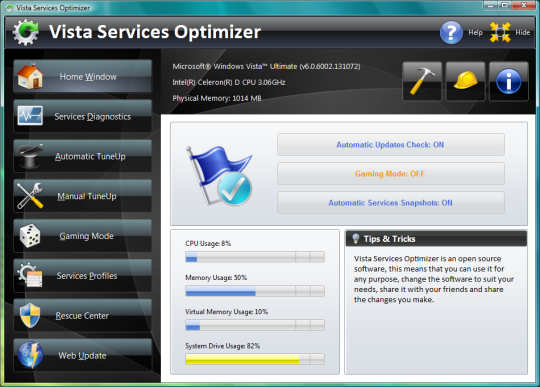 The user-interface of this free tweak software is nothing new. You will find all the necessary option on the main window with big buttons. There are Services Diagnostic options for checking all the Diagnostic results of Windows services. You will find two different actions available inside tune-up modes. Automatic tune-up will select your profile while the manual will ask your permission for every step. Overall if you are not satisfied with your PC's boot up time or performance it's time that you start thinking about Vista Services Optimizer.
Features of Vista Services Optimizer:
Boot up your PC fast and improve it's performance
Stop unnecessary Windows services
Gaming mode for temporary optimization
Vista Services Optimizer can be downloaded from Smart PC Utilities website. It's only 10.68MB in size and supports Windows 7 and Vista. Try Vista Services Optimizer Free