Firefox Theme of the Week - Simple Green
Tired of all those dark themes we had here lately I decided to switch the direction for a while and since going straight from hot to cold isn't exactly healthy today we're going to be a bit alien... or just nature lovers... or just green all right? After all when I see green I can't help but dream of a few quiet minutes in the woods right in the middle of a hot summer day - what could be better than that? Oh yeah some strippers dressed as aliens (at least for the first few minutes) but let's stay on topic all right? This week's Firefox theme is called Simple Green but relax - if you don't love this color too much you should know that the amount of green is pretty low so... let's get to it shall we?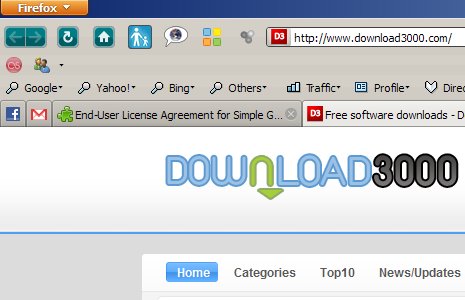 Updated to version 1.50.20110624 on the 30th of June Simple Green works with Firefox versions from 4.0 to 5.* and its official description goes like this: "A refreshingly clean compact theme combination for both Mozilla Firefox and its companion mailnews client Thunderbird." Except the Mozilla page mentioned above Simple Green has another home right here where you can find a rich collection of other Firefox- or Thunderbird-related goodies as well as others.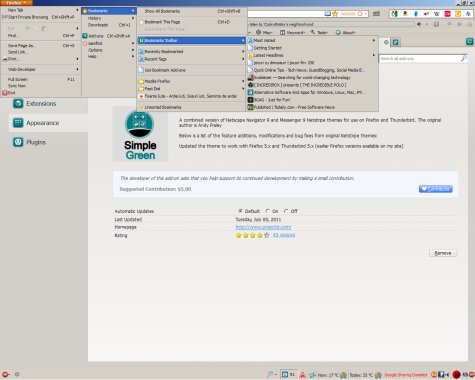 The remaining numbers surrounding Simple Green aren't bad at all - 424659 downloads so far a rating of 4/5 stars after 45 user reviews and finally a $5 suggested contribution. Oh yeah you may want to know something - Simple Green's EULA sounds like this: _"The use of this theme and its icons are granted to me by the original owner Netscape Corp. see http://blog.netscape.com/2008/01/23/simple-green-successor-to-netstripe/.
Any derivative works for non-personal use or distribution based on either the code or icons are not allowed without prior written approval from either myself or Netscape Corp."_
If you have no problems with the EULA above you should definitely take Simple Green for a spin - I can't say I am totally in love with it but I'll surely keep it around at least until next Friday. That's all folks! ;)