Rapidshare Alternative Of the Week - localhostr
Since I haven't found the perfect RapidShare alternative I'm still searching for it. Before anything else I think there's no such thing as a perfect RapidShare alternative since in this case perfection depends a lot on every user's needs - some require speed others just need a service that allows them to securely upload and store small files while others dream of becoming rich by being paid a few cents for each thousand downloads of any file stored on some remote server... and so on. To be honest I can't say I have a set of clear requirements - if it doesn't have any ads and captchas it's free and fast it doesn't really matter if the RapidShare alternative I use only allows me to store up to 1 GB of files - so if that's not a problem for you get ready for localhostr!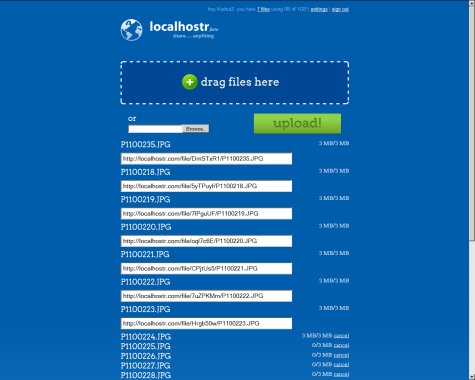 Still in Beta status localhostr is one hell of a RapidShare alternative in my opinion - according to the TOS "Files attached to user accounts hold the highest priority and are currently not deleted under any circumstance." and if that's not enough for you remember that accounts are being given for free you only need to ask for one. If you don't have an account you can upload up to 50 MB of data at once and the file(s) will be removed automatically after 30 days without being downloaded OR when there's space needed on the server...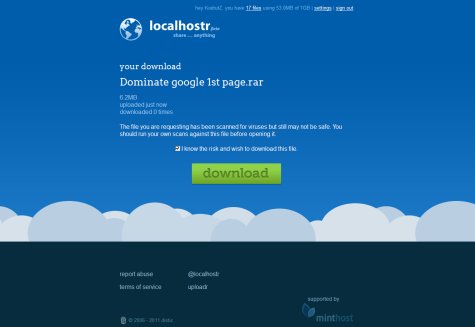 ... but if you want some more reasons for trying localhostr here you have them: excellent file management (thumbnail view available for image files surely looks & works great) excellent upload speed the ability to upload multiple files at once no ads no captchas no countdowns - no headaches no matter if you're using the service to upload files or to download them.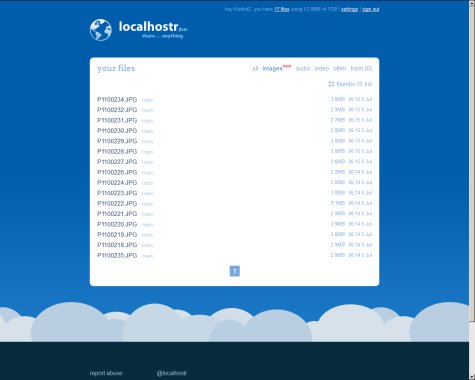 Sure people who are looking for FTP upload capabilities secure file hosting and other somehow advanced goodies you may want to check other file sharing services but as far as I can tell localhostr is one of the best RapidShare alternatives for people who just want to share a few files that are not illegal immoral or top secret. That's all folks! ;)