Before saying anything else let me warn you - there's a Firefox addon called My Surfing Board - don't even try to use that piece of crap! I have no idea how did this shit got on Mozilla.org I really can't imagine people so idiotic to ask a donation of no less than $11.11 for a Firefox addon that doesn't even work as it should... but since it's Friday the 13th I guess it all makes sense - someone up there surely doesn't love me today. Well... let's leave My Surfing Board aside and move to something that actually seems to work namely Foxy SEO Tool.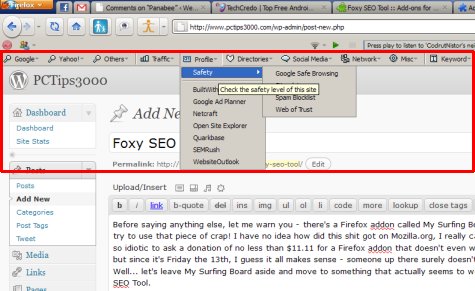 One of the many Firefox addons dedicated to webmasters Foxy SEO Tool reached version 0.8.5 some time ago on the 6th of January 2011. Officially based here Foxy SEO Tool has a perfect rating - 5/5 stars - after 17 user reviews and 97777 downloads. Completely free to download and use (there's not even a suggested donation amount on the Mozilla page as it happens with many other Firefox addons) Foxy SEO Tool works with Firefox 2.0 - 4.0.* scoring another white ball for that. Awesome!
Since all today's events made me really tired of my life (it seems 13 means really bad luck to me once in a decade or so...) here you have the official mumbo-jumbo: "Foxy SEO Tool is a free open source toolbar that provides quick and easy access to a multitude of search engine functions such as Google Site Yahoo! Site Explorer Live Fromlinks. Also included are famous web traffic analysis sites such as Alexa Compete Quantcast popular statistic aggregators like Quarkbase and WebSiteOutlook." Obviously the above is only a small part of the whole story but I will only tell you one really useful thing before moving on: Foxy SEO Tool is a Firefox addon that works as it should and today I think this is something that really matters.