Rapidshare Alternative Of the Week - GigaPeta
Still looking for a good RapidShare alternative after all this time? I don't know about you but I must admit that the hunt became much more interesting than the prey itself so I keep searching for RapidShare alternatives just for fun especially since I never know what kind of prey may be waiting for me. Well today the time has come for FlashMirrors a rather new service that has been around for less than two years but fortunately packs quite a punch as we're going to see right away...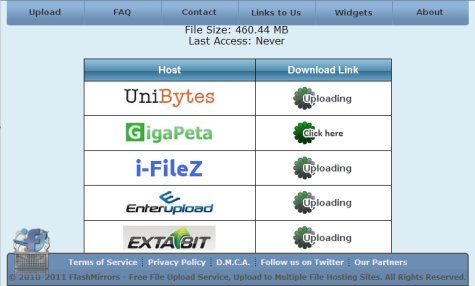 A quick glance at FlashMirrors reveals that you don't need to create an account be it free or paid (in fact even if you wanted there's no such thing as "FlashMirrors account" waiting for you) the maximum file size is 2 GB and in the end this is more than just a RapidShare alternative - its purpose is to help you upload your file to multiple file upload services including RapidShare. The only problem is that... it doesn't seem to work properly so I have to quickly find another one (exactly when I was saying how interesting is this hunt...). Searching... searching... bingo! Senduit it is! No it's not - "We seem to be having technical difficulty. Please try again in a moment." appears over and over again! This really feels like a Friday 13th... :/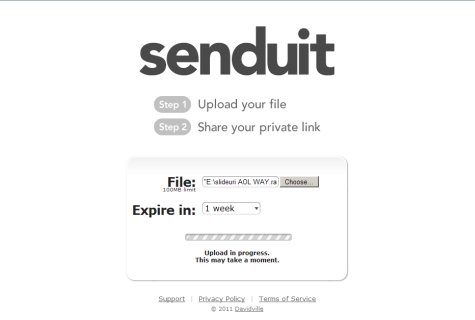 ... the really bad way since I just failed with the third file upload service today - no need to name it. Damn! GigaPeta next (and hopefully last) candidate - maximum file size of 2 GB payments for active clients and referrals Premium accounts good speed FTP uploads for registered users (including those having Basic free accounts) mass uploads...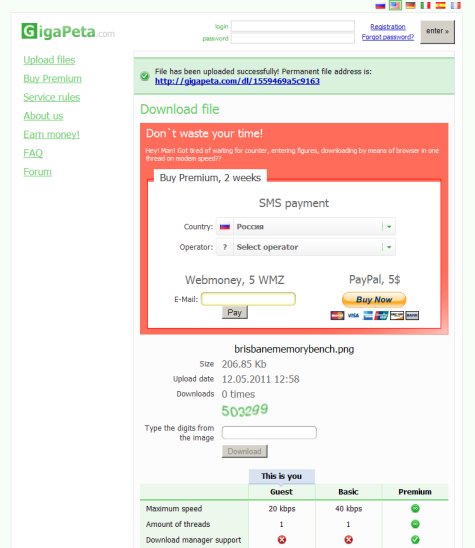 ... and this is it really - I've had enough bad RapidShare alternatives today for an entire year! I can only hope your Friday 13th is much better than mine so... good luck and have a nice weekend after that people! ;)