Free Data Recovery Evaluation
One of the best interior decorations I have ever seen is the 5.25" hard drive hanging on the wall in the room of a friend of mine. One of the rooms in fact but the most interesting ones primarily used as office and sometimes bedroom. Each time I go pay a visit and we spend some time chatting about design brand identity software or simply sipping some beer and joking I can't stop admiring that old piece of hardware on the wall while thinking about my own hard drive-related stories...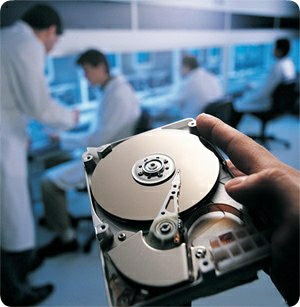 ... and the most painful one to tell is about a drive that died on me after working flawlessly for over 9 months. Fortunately it had warranty so I got it replaced. Unfortunately I wasn't able to recover any bit of data and I only had partially backed it up so... I would have gladly paid for a specialized data recovery operation instead of having a new drive and most of my data lost.
Now we got to the topic of the day - free data recovery evaluation! I know we're all looking to find the easiest data recovery solution as well as the most competitively priced one and I am not only talking about Maxtor hard drive recovery here...
... so if you're one of the unlucky ones with a dead drive on their hands DriveSavers Data Recovery can help you save some money these days but the most important part is that they can help you get your data back and that's what really matters!
The big news is that the company is offering free evaluations for the 5-7 business day service so you get to find out about the price before the work is done (so you can have time to sell your car to get money for paying the data recovery operation haha!). No no don't worry I was just joking - you will be able to cancel it all if you think your data isn't worth the recovery price.
If you really want to get to it here's what you should do - send the drive to DriveSavers wait for 3-4 business days (that's 3-4 days after they receive your drive so if you're not taking it there personally it may last a bit longer) to have the results of the analysis ready and then give it a no or give it a go.
One last thing that I am sure you'll find useful especially if you decided your data is worth the price is the 10% discount currently available. Just mention DS20159 and you'll be granted a 10% discount all right? Good luck! ;)