Free Data Recovery Software Giveaway From EASEUS!
One of the main reasons for my absence was a catastrophic event one that we talked about here more than once - my hard drive's failure. Since I am no hypocrite and I do all the things that I advise you to do I had a nice backup archive of my vital data on a USB stick. Unfortunately bad luck comes in large packages and that backup archive was corrupted beyond any chance of recovery. The happy ending of the whole story should be written in a few days when I'll go retrieve my old data from that drive sent for recovery to a specialized lab...
... but it surely won't be a happy ending from the financial point of view since the electronic board was fried and the firmware corrupted. Anyway if you happen to go through data losses that don't involve hardware failures most chances are you'll be able to recover everything with low costs or no costs at all especially since I just got good news from EASEUS - their Data Recovery Wizard software a very popular data recovery tool worth $69.95 is now freely available for a limited period!!!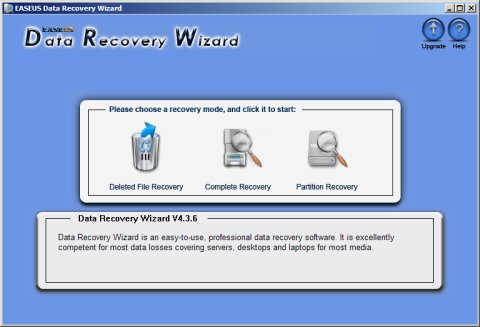 After a quick download and installation of the program I can say that I really love this program. To be honest to the end I also have to add that I wouldn't pay almost $70 for it but since it's freely available you should hurry up and get it while you can!
According to the official press release EASEUS Data Recovery Wizard "Works well under Windows 2000/2003/XP/Vista it supports recovery of lost files from hard drive USB external hard drive memory card memory stick camera card SD card Zip or other storage media." Speaking for myself I must say I love the ease of use the clear interface and the ability to create a backup image of your entire hard drive. Sweet! ;)
If you're looking for a free data recovery software for your Windows system then stop wasting time and get EASEUS Data Recovery Wizard from here! Since the official page claims this software runs under Windows 2000 XP 2003 and Vista it would also be nice to hear some thoughts from people who installed it on Windows 7. I would do that for you but my Windows 7 laptop should arrive next week...
Oh yeah one more thing - big thanks fly to Eva Sun from EASEUS for sending us the precious info about this giveaway! ;)