Free Online Maps From MapQuest
In the last months I started to think more and more seriously about a vacation. That would be a trip around Europe at least two or three weeks but until my budget gets to the needed level I think a few days spent in some nice location would do just fine. Since I hate wasting time asking around when I get somewhere I usually do my best to get the needed info before I leave. I don't have anything against Google Maps only that I was trying to find something else maybe even a bit different...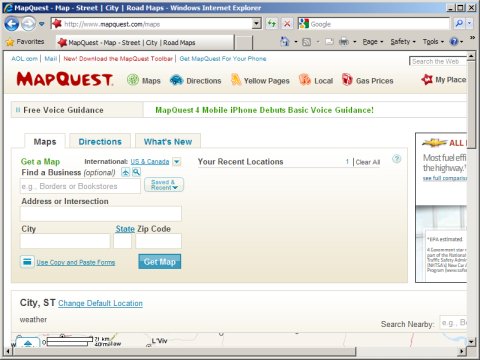 ... and MapQuest came out at the right time! I know I know - some of you may say this is such a notorious site it's almost incredible I missed it so far right? Oh well nobody knows them all and you can't actually know about all notorious sites from all categories and since I'm not out there looking for maps every day... that's it - today's my first time with MapQuest!
According to the official description MapQuest "provides consumers with trusted reliable mapping and navigation solutions and offers valuable features such as aerial/hybrid imagery multi-point routing and the ability to find the lowest gas prices" and it also has available one free iPhone app. Using it is pretty easy but I was disappointed to see a warning saying that my browser "may not support all MapQuest features" while using Opera 10.53. Oh well you can't have everything but I must say that MapQuest is surely one free online maps service that you have to try...
That's all folks good luck and may your travel budget allow you to reach all your earthly dreams! ;)