Transfer Big Files For Free
A few days ago a friend of mine needed to upload a movie of his newborn baby but didn't want to make it public. To make it even more interesting something happened to his YouTube account so uploading it there as a private movie became impossible. No today I won't tell you about any video upload service because simply uploading your large movie without having to create any account is even better and that's exactly what can be done with TransferBigFiles!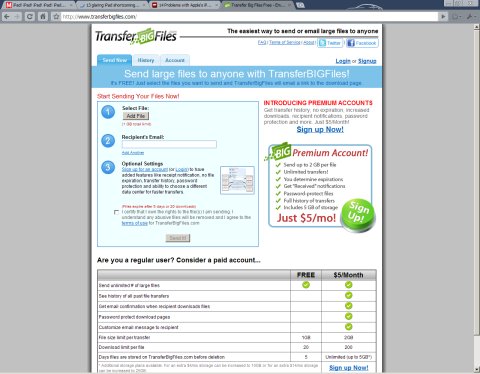 TransferBigFiles is a great online service no matter if you're going to use the free or paid features. Speaking for myself I am uploading one of my holiday movies to send to a few friends without creating any account and I have 400KB/s upload speed somehow limited by my connection I think and not the remote server. Awesome!
For a monthly subscription of 5 bucks you will get up to 2GB per file (1GB otherwise) unlimited storage time (5 days or 20 downloads otherwise) as well as other goodies like password protection custom email messages sent to the recipient of your upload(s) or email confirmation when the file has been downloaded. All in all TransferBigFiles is a pretty solid service and it is my pleasure to recommend it to you. Enjoy it and have a nice weekend! ;)