Free Up RAM Easily with FreeRAM XP
FreeRAM XP is a free system utility that helps you to optimize your PCs system and free up RAM easily. This free diagnostic software can help you to free up RAM in a jiffy. If you want to free up RAM quickly but don't know what to do FreeRAM XP is what you are looking for.
FreeRAM XP helps you to monitor your systems memory and to optimize it automatically. It comes with an AutoFree feature that helps you to easily free up RAM and balance levels between your PCs speed and its memory cache. In this way you will be able to free up RAM easily even if you don't know much about RAM. But you might face problem if you try to free more RAM than the system can actually free up. It will slow down your PC and it will be difficult to work on your PC in this way.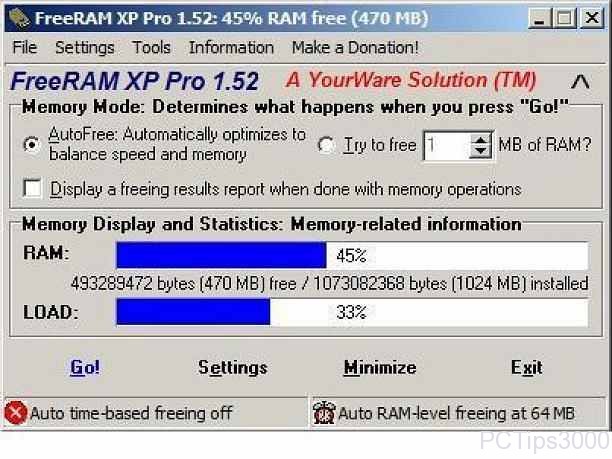 This free diagnostic tool is packed with features and comes with simple user interface. You can free up memory with threaded and fast stop options. There is a system memory monitoring option for monitoring your PCs system memory. You will get memory information with its real-time interface. It can free RAM in your system after scaling it intelligently to make sure that optimizing RAM won't slow down your PC. These features is what makes this free system utility a must have.
Features of FreeRAM XP:
Free up RAM in a jiffy with AutoFree mode
Optimizes your system automatically before freeing up RAM
Comes with multiple system-metric monitors
FreeRAM XP is available for download at YourWare Solution's official website. It's 606KB in size and supports Windows XP 2000 Me 98 and 95. You can try the lite version if you want before downloading this Pro version. Try FreeRAM XP Free