FreeMind - Open Source Mind Mapping Software
When it comes to mind mapping software there's a big void in my mind. I know it sounds a bit strange and it's also a fact that I'm not proud of at all. Even more I played with a few programs from this category so far but never got to use one for my own needs. I know it may be because my mind needs some management before mapping... but let's cut all this and take a closer look at the free mind mapping software I got for you today namely FreeMind!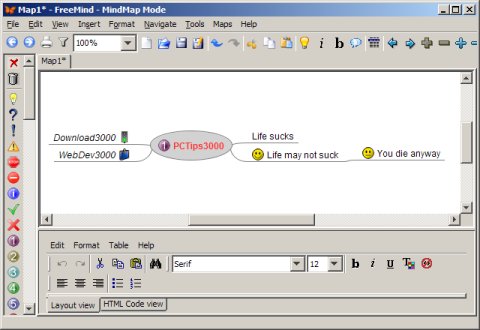 According to various sources the mind mapping technique can improve learning/study effectiveness up to 15% over classic note taking. Sure I don't say that's not possible but as far as I can tell it will also take more time... much more. Since I may be wrong I suggest that you get your hands on FreeMind and play with it for a while see how well it can help you get the job done.
What you need to know is that FreeMind is a free program covered by the terms of the GPL license and since it's written in Java it works on all popular platforms. While it does not offer online editing or realtime collaboration and its last version is 0.9RC FreeMind looks and feels pretty solid. That's all folks! Enjoy FreeMind and be sure to drop your comments below maybe you'll make me turn back to this one and start using it on a regular basis... ;)