If I can avoid spreadsheets I always do it no matter if I end up using a pen and some paper but I also agree that pen and paper are to be avoided sometimes and I end up where I started: using a spreadsheet application. Fortunately there are a few Web-based solutions to use so I don't have to install any kind of office suite. While Google's spreadsheet application is pretty good for my needs and I use it on a regular basis I always enjoy trying new stuff and today the time has come for EditGrid!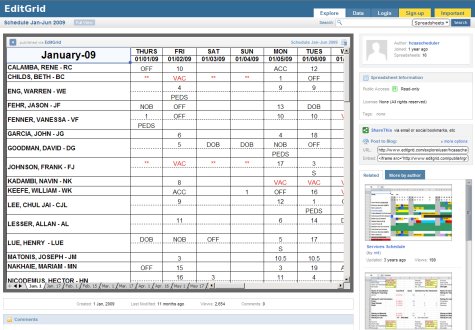 EditGrid seems a pretty straightforward spreadsheet tool to me but that doesn't mean it doesn't deliver the goodies most of its users will need especially collaborative editing. Another interesting feature allows users to insert live data into spreadsheets using various functions for example =alexa("editgrid.com""rank"). For more details about this facility be sure to take a closer look at this page.
To take full advantage of all the tools offered by EditGrid you'll have to create an account but since it's free and it only takes a few minutes... I think you should go ahead and try this Web service especially if you don't like Google's offer. ;)
P.S. I noticed there are some dead links here and there on EditGrid. Did you find them too or is it only my network?!?