Game Booster: Free Optimization Software for Gamers
Game Booster is a free optimization software that closes all the unwanted system processes and programs to improve the performance of your PC game. You can easily switch between normal mode and gaming mode when using this free optimization software. If you are looking for a good optimization software to improve your game's performance by closing unwanted processes and programs Game Booster is what you are looking for.
This freeware comes with a list of 24 unnecessary processes that can be shut down when playing a game. You can also select the processes that you want to close and let this freeware take care of the rest. If you are not familiar with the processes you might not have any idea about the processes you are shutting down. But you don't have to worry about it as temporary disabling these processes are not going to harm your computer. And whenever you switch back to normal mode all these programs will quickly start working again.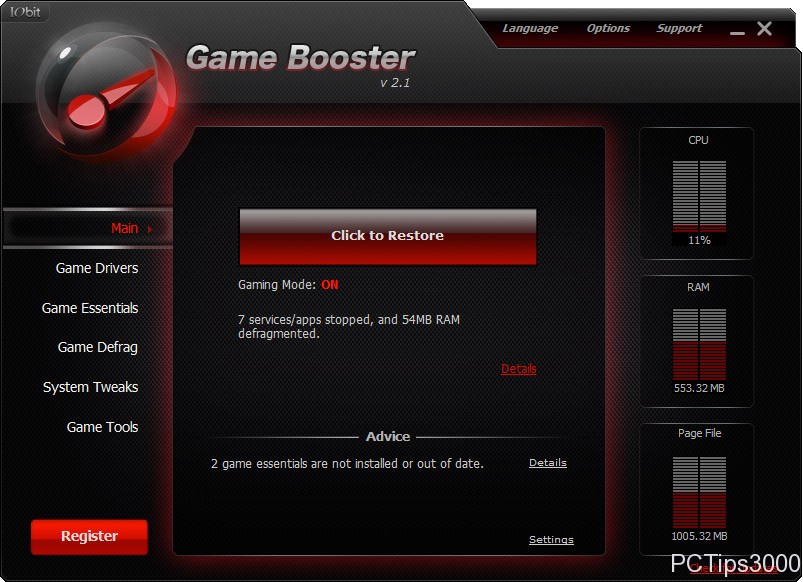 This free optimization software for gamers comes with an intuitive and easy to use user interface. You will see a small window at the bottom of your screen. Just click on the switch to gaming mode or switch to normal mode button and leave the rest to this freeware. You can also choose the game that you are going to play and this freeware will quickly defragment the game files and directories to improve the performance of the game.
Features of Game Booster:
Improve the performance of heavy games
Shut down unnecessary or non-critical processes
Cleans RAM to increase your PCs performance
Game Booster is available for download at IObit's official website. It's only 4.64MB in size and supports Windows 7 Vista XP 2003 and 2000. Try Game Booster Free