Game Of The Year 2011 - My Choices
Do you have a lot of time to kill yet can't find any game decent enough to keep you around your computer more than 20-30 minutes? Well I can't say I am a hardcore gamer but I've managed to play quite a few games in my life and lately I only touched a few but some of them really touched me too so when I bumped into the email inviting me to vote for this year's Golden Joystick Awards I decided I really have to share my choices with you as well as a few thoughts about various nominees that I played or at least saw in action on other people's computers...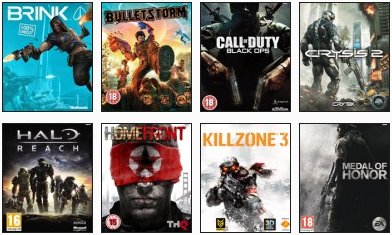 ... so let's start with the Best Shooter category: my choice is Crysis 2 but I was really surprised to see Dead Space 2 here (it's a horror shooter all right - only that it's horrifyingly boring!!!). The other candidates to the title are pretty interesting although I must admit I didn't manage to get my hands yet on games I'd really love to try at least such as F.E.A.R. 3 or Homefront. Surely a tough category swarming with titles that deserve to win!
Best Action/Adventure category doesn't ring any bells here although I managed to play Mafia II for a while as well as Portal 2. Any suggestions? I think I should really try to spend some time with L.A. Noire some day... but now my vote goes to Portal 2 mainly because it's one of the few sequels I've seen in the last few years that didn't disappoint.
Next the Best RPG category has some great titles competing for the prize with Fallout: New Vegas being my choice simply because I played it loved it finished it a few times. The Witcher 2 and Dragon Age II also look pretty solid despite the fact that the last one didn't manage to fulfill my expectations. Well at least it wasn't that bad as Mass Effect 2 or Test Drive Unlimited...
Best MMO (subscription) - Age of Conan is clearly going down despite the fact it's a pretty cool game (played the trial loved it didn't consider it worth my money simply because I hate to pay for 30 days and only play ~100 hours) Eve Online managed to push my boredom to the ceiling during those few hours of trial I played... but there's no need to talk about the nominees since we all know already that World of Warcraft: Cataclysm will get the prize. Am I right? Can't say for sure but I just voted for it (I hate WoW too - find it just as boring as Eve Online...).
Best Fighting - I got no clue but I vote for Mortal Kombat 2011 - I played a few MK games in the past loved them all I guess it still rocks.
Best Racing game - surely a category where Test Drive Unlimited should NOT be one of the nominees but at least there are quite a few awesome titles here - Shift 2 DiRT 3 Gran Turismo 5 and the last Formula 1 game. My pick? GT 5 of course! ;)
Best Sports - yeah right - I have no idea. The reason? I usually avoid sports games but I think the fight will be carried by the FIFA 11 - Football Manager 2011 - PES 2011 trio. My choice? Football Manager 2011 because I always put strategy on first place.
Best Strategy? Oh yeah! While I can't say it made me as happy as it should have I think Civilization V deserves my vote. On the other hand R.U.S.E. should not be nominated here. Why? Boring dull a complete mess - I played a few games in the free weekend offered via Steam and I quickly began to hate stacking units. This really makes me think that after all Civilization V's approach to combat is a really smart one so... let's move shall we?
Best Music-based game what the... well let's go with Guitar Hero Warriors of Rock here - didn't play it but I like the way it sounds... ;) Not too many choices here no idea why such a category exists. Well another one bites the dust I guess.
My favorite category is Best Free-to-play simply because some of the games here prove that you don't have to pay to have a great time. My pick is World of Tanks but there are a lot to watch here - Allods Online Black Prophecy Mythos and the notorious RuneScape. On the other hand I find it ridiculous to see titles like Zuma and Bejeweled here with other (much) better ones missing.
Best Mobile game? Madness!!! Fruit Ninja and Angry Birds Rio are my favorites but I am sure some of the others are just as good or even better. My vote goes to Angry Birds Rio.
Best Downloadable? Minecraft all the way! Just be sure to take a closer look at all the available titles you'll surely find some nice time killers there! ;)
Ultimate Game of the Year? Easy one for me - Fallout: New Vegas although there are a lot of interesting choices here - StarCraft 2 GT 5 The Witcher 2 Dirt 3 or Civilization 5. Really tough choice trust me!
At last we have One To Watch a category described as "the cream of the gaming future" - to me Tomb Raider sounds like that game to watch. I don't even dare to hope that Mass Effect 3 or the new Assassins' Creed will deliver more than a few hours of boredom. Well... I guess that's all for me but I'll surely be waiting to hear about your choices. Bye-bye and have a nice weekend! ;)
P.S. If you're a US or UK resident placing your votes could bring you some awesome prizes. Just click here for details. Good luck!