Create 3D House Plan with Sweet Home 3D
Sweet Home 3D is a free 3D home planner that helps you to design your interior in 3D easily. You can do all the planning in 2D and then see the results in a 3D view. If you are looking for a good free 3D modeling software for drawing your home plan in 3D Sweet Home 3D is the best option for you.
This freeware supports importing 3D models from other websites which means you can download 3D models from various websites and work with them in this freeware. All the changes you made with the 2D plan can be viewed in 3D with this free interior designing software. You can view your plan in two different ways from aerial view point or from virtual visitor's view point. If you have images of any existing plan you can use them for drawing the walls.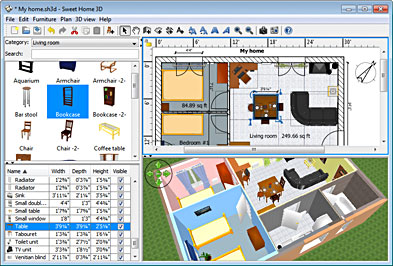 If you believe that using a 3D modeling software can be difficult don't worry as this free 3D home planner comes with an easy-to-use attractive user interface. You will find a file tree in the left side of the main window for every room you have planned in the house. And inside each room you will find appropriate furniture to fill the room. You can also view your plans whenever you want by clicking the small box at the bottom of the window. You can also create a movie and export the plan in SVG format. You can save them with 3D view in OBJ format with this free 3D home planning software.
Features of Sweet Home 3D:
Create interior design quickly in 2D and see them in 3D
Supports importing 3D models
Create a movie from a virtual path
Export the plan with 3D view to OBJ format
Sweet Home 3D is available for download at Sweet Home 3D's official website. It's only 31.12MB in size and supports all versions of Windows. Try Sweet Home 3D Free