Get Basic Protection from Viruses with Avira AntiVir Personal
Avira AntiVir Personal is a free antivirus software that can provide strong protection against spyware malware worms Trojans rootkits and adware. It is tried and tested a lot of times so you can expect to get basic protection against these viruses. Moreover it's completely free. It can not only help you to get protection from malware but also remove these viruses easily. Once your computer is virus free it can automatically repair the system and present you a problem free PC.
There are no major changes in the interface of this app if you compare version 10 with version 8. You will find new static image background and new icons in the toolbar. The latest information of your last definition file update and last scan is available in the status menu even when the real-time guard is running. But the upgrade link to premium version is not available in this version.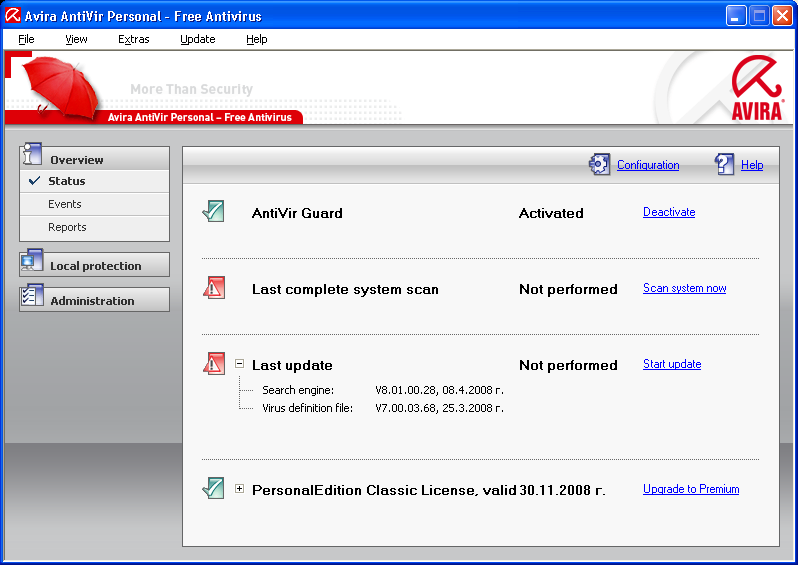 There is a new genetic repair mode in the new version of this free antivirus software. But if you are looking for exclusive new features you won't get much in the free Avira 10. Windows 7 users will be able to perform scans as administration directly. The installation process requires five clicks. But you have to complete a registration form as a new user. But you don't have to restart your computer after installing. You will be able to scan both external and internal hard disk or customize a scan.
Features of Avira AntiVir Personal:
Get basic protection from all kind of viruses
Installation process doesn't require reboot
See your last scan and last definition file update easily
Supports Netbook with low resolution
Avira AntiVir Personal is available for download at Avira's official website. It's only 56MB in size and supports Windows 7 Vista and XP. Try Avira AntiVir Personal Free