Get Media Files on Phones with FLV to AVI MPEG WMV 3GP MP4 iPod Converter 5.30.402
FLV to AVI MPEG WMV 3GP MP4 iPod Converter is a shareware conversion tool that offers straightforward user interface hence allowing users to convert file formats easily and quickly. The software is mostly helpful for the people who download or capture streaming media files from the sites such as YouTube. Although as the name says that the application can convert .FLV files to any possible format the software is also capable of converting any format file to any desirable format. In other words the software is almost versatile as far as media conversion is concerned. The best part is that the conversion process is remarkably faster as compared to other media converters available in the market.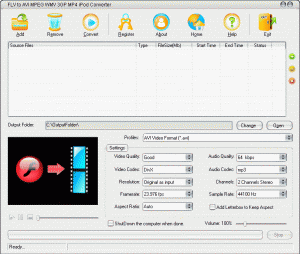 Pros
The software is capable of converting multiple media files simultaneously. The default number of concurrent conversion is two which can also be increased or decreased as per the processor capacity and memory.
The application can convert .FLV files directly to mobile supported formats such as .MP4 3GP etc.
Size of converted media file can be decreased at the cost of quality. This feature is useful for the people who want to store files on their mobile phones with less memory.
Cons
Conversion process of FLV to AVI MPEG WMV 3GP MP4 iPod Converter is a resource intensive and therefore users may experience reduced system performance while converting.
Download Link: http://www.aone-soft.com//flv_to_avi_mpeg_wmv_3gp_mp4_ipod_converter.htm