User Error Free Virtual Machines with NewSID
NewSID is a freeware tool which is mostly used in production environments where virtualization is a major concern. The application is used to randomly modify Security Identifiers on Microsoft based operating systems which are installed on virtual machines. Normally when Ghost or any other imaging application is used it automatically modifies the security identifiers on the reference machine. However there are times when users manually copy virtual hard disk files from source to destination hence eliminating the requirement of any imaging application. When this is the case SID of the cloned virtual machines are left intact which further creates problems while working in Active Directory domain environments. NewSid allows administrators to manually change the security identifiers which eliminates the need of reinstallation of the operating system.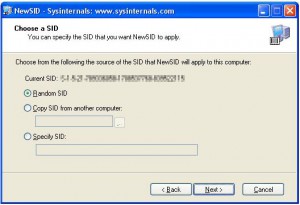 Pros
The application provides feature of renaming computer names along with the SID.
Security identifiers are automatically generated on random basis however users can specify their own SIDs if they want.
The application is small in size (a few kilobytes) and therefore it gets easily downloaded.
The interface of the application is straightforward and easy to use.
Cons
Automation process for the application is not available and therefore administrators need to manually run the software on every individual machine.
Download Link: http://download.chip.eu/en/NewSID-4.1_163115.html