GloboNotes: Free Note Taking Software
GloboNote is a free note taking utility that helps you to create to-do lists reminders and other notes in one place. If you are looking for a smart and nice note organizer for organizing reminders and to-do list in the same place GloboNote is the best option for you.
Sometimes we wish to have a software where we can save all our notes create to-do lists and reminders. It can greatly increase our productivity and can help us to save a lot of time. If you are also among these people and wish for a software like this GloboNote is exactly what you are looking for. You can keep all your notes in one place and customize them by adjusting the color font and other things. If you have created a big collection of notes you can easily search for your notes using the search tool included with GloboNote.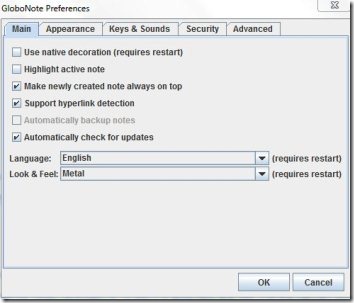 This free note taking software comes with a simple attractive user-interface. You need to install Java 6 or higher to install this freeware. Once you install this free note organizing utility you can access to it right from your start bar. Another attractive feature of this freeware is you can use this freeware in almost any Windows PC as this freeware supports all the Windows OS.
Features of GloboNote:
Create organize and edit notes easily
Perform calculation inside notes with in-built calculator
Attach images and date to notes easily
Simple easy-to-use interface
GloboNote can be downloaded from GloboNote's sourceforge website. It's only 4.52MB in size and supports Windows 98 or higher. Try GloboNote Free