Update Outdated Software Automatically With Patch My PC
Patch My PC is a free software updating utility that helps you to update all your installed outdated software automatically. You can scan your PC for all the outdated software and this freeware will help you to update them. Let's see if this freeware is worth trying or not.
If you have a lot of software installed in your PC it can be difficult for you to check for updates manually. But it's also not a good idea to use outdated software as it can be harmful to your PC. That's where Patch My PC comes in. You can update all the outdated software automatically using this free software updating utility and keep your PC safe. Once this freeware is done scanning your PC it will show all the software in different colors.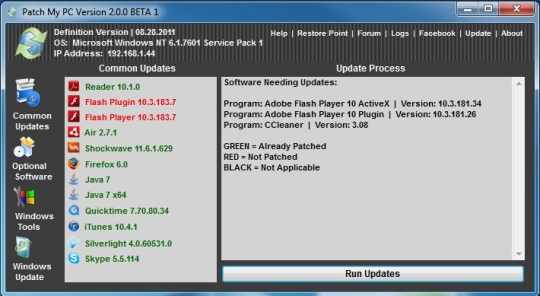 This free file updating utility comes with an attractive user-friendly interface. Outdated software are colored in red already updated software are colored in green and the ones that does not need any update are colored in black. All the software are nicely arranged in different categories like optional software Windows tool Windows update and common updates to make things easier for you. This freeware is specially designed for updating popular software like Mozilla Firefox Adobe Reader Apple Quicktime Adobe Flash and Oracle Java.
Features of Patch My PC:
Supports updating many popular third party products like Quicktime Flash and Reader
Add optional software in the update process
Simple easy-to-use interface and portable
Patch My PC is available for download at Patch My PC's official website. It's only 332KB in size and supports Windows 2000 or higher. Try Patch My PC Free