If you think that Facebook will follow MySpace's fate there's no need to worry - Google has it all covered! While the brand new social networking service called "the Google+ Project" may look pretty much like Facebook this one's surely not a Facebook clone if you ask me. After all the recipe for success seems pretty simple in theory - look at Facebook take out all the things that suck release a worthy competitor and... that's all I guess! Anyway it's never that easy but Google+ surely sounds like very interesting news so let's take a closer look at it shall we?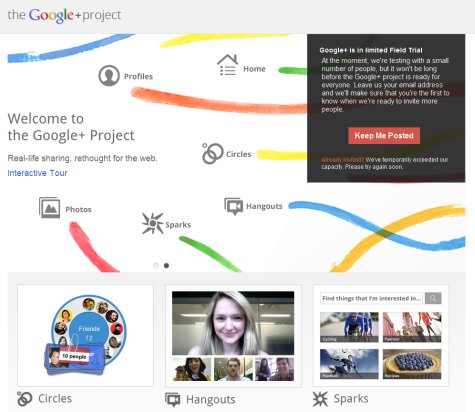 Announced this last Tuesday Google Plus(I think it looks better written as "Google Plus" instead of "Google+" - it's not a programming language after all...) is currently in "limited Field Trial" stage and unfortunately there are no more vacant places. What's so special about Google Plus? Well if the ability to use it with your Google account is not enough here's something that should help you decide: while Facebook has been plagues with a lot of privacy issues Google Plus' was designed to offer sharing capabilities inside small groups instead of all the friends of your friends' friends' friends as it happens in Facebook... ;)
While using Facebook I really wished to have a "kick this as*h*le" option available to answer some friendship requests although checking those people's updates would have been rather interesting. Well Google Plus allows you to check someones' updates without sharing your own while a lot of interesting things like Sparks Hangouts and Circles promise to turn Google Plus into a really good Facebook alternative. Hey maybe one day we'll see Google Plus climbing above Facebook the same way as the blue beast did with MySpace back in 2008...
P.S. As soon as I'll get approved to take Google Plus for a spin I'll get back with a serious review. Stay tuned!