Despite the fact I can't say I fully agree to what they're doing I can say I somehow understand masochists sadists vegans religious freaks even suicide bombers but I'll never understand people who use Firefox without blocking the ads despite the fact they're annoying and these people never click them. Well today we're going to take a closer look at Adblock Plus so you won't have any excuse for loading your favorite pages full of ads banners and other useless things from now on! Ready or not here it goes...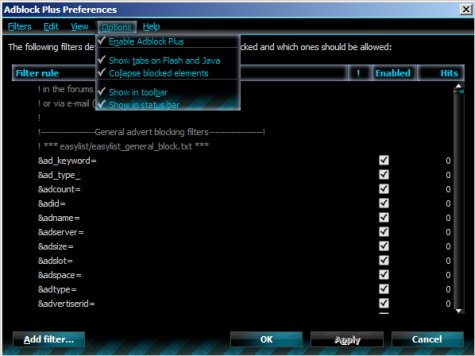 Updated to version 1.3.8 on the 23rd of May Adblock Plus is one hell of a Firefox extension - before anything else just take a look at the remaining numbers around it: rated 5/5 stars after 2382 user votes and having been downloaded no less than 126365095 times so far Adblock Plus works with all Firefox versions from 3.5 to 7.0a1 and if you want to visit its official home then you'd better click right here right now! ;)
Since I usually hate writing too much about simple (or not-so-simple) things that get the job done as they should I strongly advise you to check this YouTube video on Adblock Plus. It may be pretty old but you'll surely get the idea - Adblock Plus doesn't just promise a lot of things it also fulfils those promises (check the screenshot below for the footer and some content of Cnn.com exactly the area where ads usually appear)!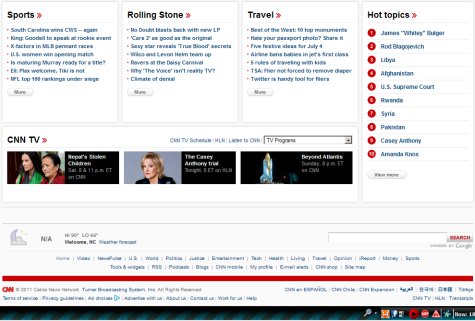 I know that - for some of you at least - there may be a better way to block ads and banners in Firefox. To be honest I'm quite ignorant when it comes to this since I use Opera much more often than Firefox and as you probably know Opera comes with a decent builtin blocker. These being said you're free to drop a comment and enlighten me - is there a better ad blocker for Firefox or Adblock Plus is "THE ONE" without a single doubt? Thank you in advance!
P.S. Oh yeah in case you're still wondering about it... Adblock Plus is freely available with a suggested donation of $5 - a fully deserved amount no matter how you look at it!