Google Search Results Direct
Do you feel somebody's watching over your shoulder every time you're searching for something on Google? Don't worry you're not paranoid - that's exactly what happens! Fortunately there are quite a few ways to avoid being exposed. Google Search Results Direct today's Opera extension is one of them so let's take a closer look at it shall we?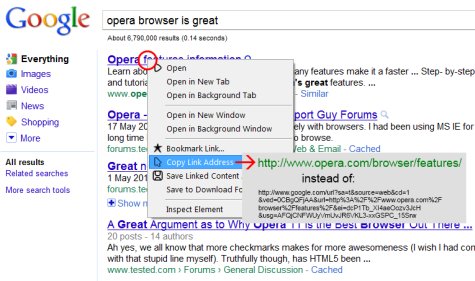 Released to the public on the 14th of June at version 1.0 Google Search Results Direct has only 9 KB in size doesn't require any special attention but it surely gets the job done! Since the image above should say it all let me add a few extra numbers: after only 137 downloads this Opera extension already got 7 user reviews all of them awarding 5/5 stars. If that's not impressive already I am sure it will get much better in time. Other than these...
... I have to be honest and tell you that I have no idea what else can be said about Google Search Results Direct - if it gets the job done properly it's free and there's no need to mess with any settings what else can you ask of it? I only hope that you'll find this little piece of code to be as valuable as I think it is. That's all folks! ;)