Specify Responsible Person for OU in Windows Server 2008
In medium to large scale network setup where there are several organizational units created by the administrators and the entire infrastructure contains multi domain environment a separate administrator is assigned to manage a set of organizational units. This ensures that in case of any modifications or rectifications responsible person can be contacted and can be requested to perform the appropriate tasks. Specifying the name of the person who is responsible for managing the organizational unit does not grant him any additional privileges but allows others to locate the person who will be responsible for any modifications in that particular OU. If you want to specify the name of the responsible person for any organizational unit you are required to follow the steps given as below:
1.       Make sure that you are logged on to Windows server 2008 domain controller with domain admin account.
2.       At the bottom of start menu in search box type DSA.MSC command and press enter key to open Active Directory Users and Computers snap-in.
3.       Right click on the organizational unit for which you want to specify the responsible person and from the available menu click on Properties.
4.       On the opened box go to Managed By tab and click on Change button to locate and specify the name of the responsible person.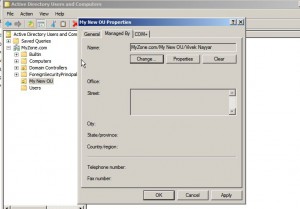 5.       Once done click on Ok button to make the changes permanent.