Hackerman, Another Online Operating System?
A few years ago there were people in the press who were expecting Web-based "operating systems" to give us "a new Linux" but it seems they were wrong. Unfortunately while startup pages like iGoogle or Netvibes managed to become pretty popular the Web OS itself still has a long road ahead and it seems the road is a pretty tough one. I say this only because I used quite a few software platforms that could have been called "Web operating systems"most of them having the features and looks needed to become successful yet they failed (no need for names here). Today... I'll point you to another startup in the field namely Hackerman WebOS.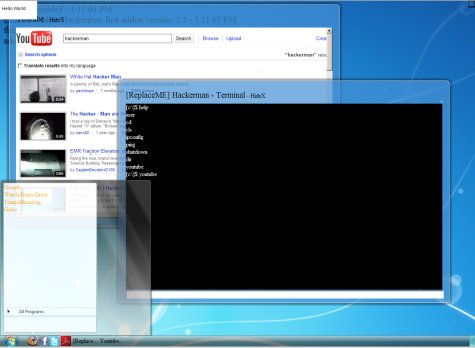 Hackerman WebOS is really easy to use but for now the features are also pretty close to none since this is more of a working early Alpha prototype now not a fully-featured Web OS. Even worse it seems my Opera browser hates it but Google Chrome seems to love it so if you have a fast connection...
... open the link above in your browser (it seems that at least IE and Google Chrome should be fine I didn't try it in Firefox or on a mobile browser) choose to login as a guest (sure I am not saying that you shouldn't register I am only trying to offer you the fastest way to the goodies as usual) and then enjoy your stay! There's not much to see but hopefully this is a glimpse of the future... or another project destined to fail but it's surely one worth checking out. Why? For those gone but never forgotten like YouOS or many others!
P.S. I know you can't do a lot of things with Hackerman but same things goes with sports cars yet a lot of people use them... ;)