How to Change Computer Owner Name in Windows 7
In home environments or office network infrastructures many times users or administrators may want to change the name of the owner of the computer which is displayed when WINVER command is sent to the Windows 7 computer from either search box or Run Command box. Renaming owner name does not matter much while working on the computer however for the sake of advertisements and individuals' satisfaction sometimes it is necessary to do so. The process requires some modifications in Windows registry and therefore elevated privileges are required in order to perform the task. As an administrator of a Windows 7 computer if you want to change owner name of the computer you need to follow the steps given below:
1.       Logon to Windows 7 computer with any account that has administrative privileges.
2.       Click on Start button and in the search box type REGEDIT and press enter key.
3.       On User Account Control confirmation box click on Yes button to continue.
4.       On the opened Registry Editor window locate HKEY_LOCAL_MACHINESOFTWAREMicrosoftWindows NTCurrentVersion from the left pane.
5.       On the right pane double-click on RegisteredOwner.
6.       On Edit String box under Value data specify the new owner's name for the computer and press Ok button to save the changes.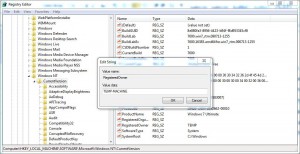 7.       Close Registry Editor Window and type WINVER command in search box to see the new name.