How to compress your pictures by 98%
Everybody loves taking pictures especially if you go in a vacation. But ther is o problem if ou want to share your pictures with your friends. You can use an online service but if you want to upload them to your Facebook account you will have to wait a lot. This is a big problem for me. I can't wait. That's why i don't have pictures on my Facebook account :).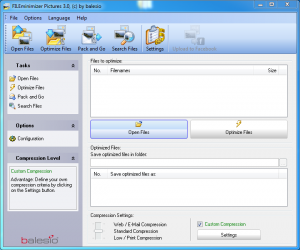 But for every problem there is a solution. The solution is called FILEminimizer Pictures. FILEminimizer Pictures can minimize the size of your images or pictures by up tp 98%. For example a picture of 5MB is compressed into a file of 100KB. Â It supports the following formats: JPEG BMP GIF TIFF PNG and EMF.
You can choose from 3 levels of compression(Low/Print Standard and Web/E-mail or you can customize your compression level. I was satisfied with the Standard compression level. Don't worry. FILEminimizer Pictures keeps the original format this way if you're not satisfied with the results you will have the original files untouched.
Using the batch mode you can compress more than one file at a time. Also you can "drag and drop" you files directly into FILEminimizer Pictures. With FILEminimizer Pictures you can upload the pictures directly to your Facebook account.
Let's don't forget: FILEminimizer Pictures is FREE.