How to Defragment and Schedule Defragmentation Process in Windows 7?
Defragmentation is the process which considerably enhances the speed of your computer. The reason behind this is that when you keep on storing and deleting the files in any particular drive on regular basis the files get fragmented. Because of this the operating system takes more time to collect all the scattered pieces of a file from different locations before opening it. With the help of Defragment these fragmented files are re-joined together thus allowing the operating system to eliminate the need of collecting scattered pieces of file from different locations of the hard disk hence speeding up the system remarkably.
To defragment any drive in Windows 7 (Eg. C:) you need to follow the steps below:
Click on "Start" button and from the list and click on "Computer".
From the opened Window right-click on the drive you want to        defragment (Drive C: in this case).
From the context menu select "Properties".
From the "Properties" box click on "Tools" tab and click on "Defragment Now" button.
In the "Disk Defragmenter" box you will be displayed with the list of drives in your computer. You can select the drive you want to defragment. (Drive C: in this case) and click on "Defragment Disk" button to start the defragment process.
Alternatively you can schedule the process of defragmentation so that you don't have to follow this process manually every time you want to defragment any particular drive. To do this follow steps from 1 to 4 as mentioned above and then follow the below steps to schedule the task:
Although defragmentation process for all drives is already scheduled by default in Windows 7. The default schedule is set on Weekly 1 AM Wednesday as per your time zone. However if you want to re-schedule the process you need to click on "Configure Schedule" button.
From the "Disk Defragmenter: Modify Schedule" box ensure that "Run on a schedule (Recommended) check box is checked and then make appropriate changes from the drop down lists available to modify the schedule.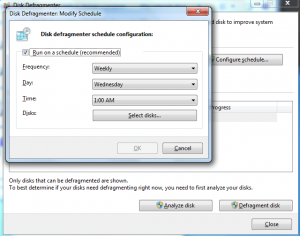 By default all drives in your computer are selected for defragmentation. However if you want you can unselect some drives by clicking on "Select Disks" button. This step is not recommended though.
Finally you can click on "Ok" button on every box to accept and confirm your selections.
Disk defragmentation is recommended at least once in every 15-20 days. This process helps you automate defragmentation and will eliminate the need of any manual interaction from your side.