How to Download a 180 Days Version of Panda Antivirus/Internet Security 2011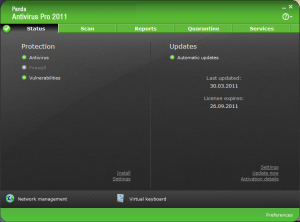 Panda has great security products. Not known as Norton or Kaspersky or Nod32 but if you look at the tests you will see that is a very good antivirus suite. The greatest feature of Panda Antivirus and Panda Internet Security is its so called Collective Intelligence. Collective Intelligence is a network of information based on the community of users where we all share and contribute knowledge. This way you will be protected in a matter of seconds.
Even if you choose only Panda Antivirus and not Panda Internet Security you will get a firewall with WiFi security. Also Panda Antivirus will protect your external devices with Panda USB Vaccine. Panda Antivirus checks your security status of the home computers using the new Home Network Manager.
If you want more protection you can choose Panda Internet Security. In plus you will get Anti-Spam protection improved parental control identity protection online backup. Also you can backup and restore important files using Panda Internet Security. A new and useful feature of Panda Internet Security 2011 is Remote PC Access. Using Panda Internet Security you can connect remotely at any computer.
If you want to try both versions Panda Antivirus 2011 and Panda Internet Security 2011 you should follow this simple steps:
1. Panda Spain and Allianz launched a promotion for their clients. But anyone can download the 180 days version of Panda Antivirus and Panda Internet Security. Go to this page.
2. Choose the version you want and click on Descargar Gratis. Also you can buy them with a 30% discount.
3. You don't need a code or serial. The code is embedded into the installation kit.