One of the reasons that make me hate television so much is that watching TV is nothing more but a complete waste of time. No matter how slow can you read but unless you're completely retarded it's always easier and less time consuming to just check some RSS feeds instead of watching those damn TV news! Considering these I'm always ready to try a new method/tool for checking news feeds so I am sure that choosing TPGoogleReader today isn't a surprise at all... right? Great so let's get to it!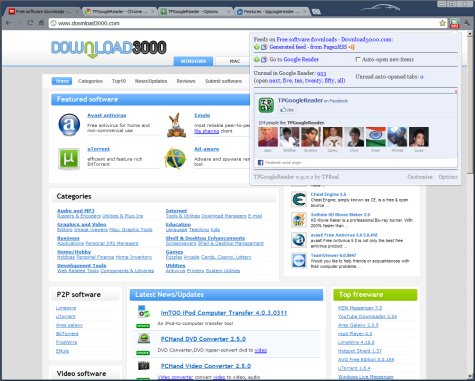 As it happens with most similar browser addons TPGoogleReader doesn't offer all the features you'd get from a fully featured RSS reader but it surely makes your Google Reader user experience easier and more enjoyable - at least as long as you'll be using Google Chrome of course! ;)
The numbers look like this: current TPGoogleReader version is 0.9.0.2 released on the 22nd of March 2011 but it seems strange to me seeing only 1774 users... despite the fact this Chrome extension has a rating of 4.53/5 stars after 77 ratings. Oh well... I guess there are a lot of people out there still happy with Google Reader but TPGoogleReader is really worth checking out trust me!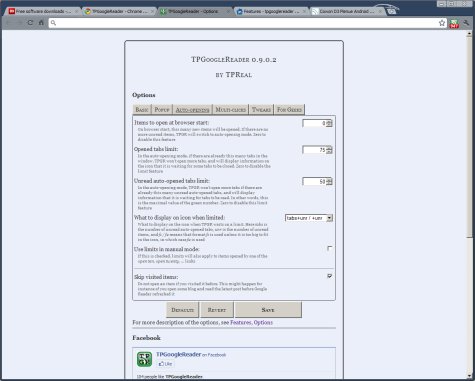 Obviously TPGoogleReader offers all the features of the original Google Reader but what I really love about it is the ability to automatically open news items in background tabs of your browser and more than that you should also keep in mind that its features exceeded my expectations. Well I guess that's all for today so I really hope you'll love this Chrome extension and find it at least half as useful as I do. Bye - bye!