How to download easy from Rapidshare
Everybody knows what Rapidshare is. Rapidshare is a great option if you want to share files pictures or everything else. But there are o few "problems" if you use this service occasionally. If you have more than one file to download you will have to pay to get rid of the nagging waiting time. The prices are ok but if you have to download a few pictures sent by your friends there is no reason to pay. You can wait the 6The solution is aclled0sec or more. But if you have 10 or more files there is a problem. But for every problem there is a solution.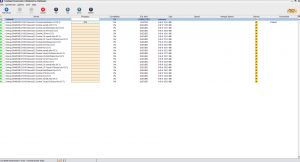 The solution is FreeRapid Downloader. FreeRapid Downloader is a download manager for Rapidshare and other file-sharing services(it supports more that 150 file-sharing websites). Just copy the links for the files and paste  them in the program. FreeRapid Downloader will download for you the files and you don't have to stay with the Rapidshare page opened. This program will not bypass the seconds/minutes you will have to wait for the files to be downloaded. It helps you not to stay with the browser opened and not to calculate when you should look at the page to press the download button.
FreeRapid Downloader automatically checks for plugin updates and works on MS Windows (all include Win7) Linux and MacOS. FreeRapid also supports CAPTCHA recognition and automatic checking for file's existence on server.