Extra protection for your PC - 8 antiviruses in one tool
Everybody knows that is not safe to have more than one antivirus on your computer especially if you want to keep the resident protection. Why? Because there will be conflicts between the antiviruses and your computer will  work like a piece of ... :) But if you want to be extra protected you can install an antivirus with multiple engines but they work very slowly.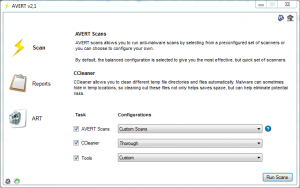 The solution comes from Avert Software. AVERT is not design to rpotect your computer like an ordinary antivirus. It doesn't have an resitent module. AVERT is designed to help you if your computer is already infected. Consider it an portable application that can help you to clean an infected computer. By default it comes only with VIPRE engine installed but you can install another 7 engines: A-Squared ClamWin Trend Micro Sophos Panda Avira and VBA32. Also when you are starting the scanning AVERT is updated itself this way it provides maximum protection.
It supports the following scanning configurations:
1. Complete scans. This scanning is perfect if you want to receive the best results.
2. Balanced scans is the default configuration. Balanced scans provide a thorough scanning and is quicker than Complete scans.
3. Quick scans is the fastest scanning option and is recommended if you want only to check if a previous scanning was successful.
4. Custom scans allows you to select which antivirus engine to use and also the scanning configuration.
Before the scanning begins AVERT will clean all the temporary files using CCleaner. Also it will make a backup of your registry and it will reset the hosts file and the proxy server.