How to Get Schema Management Snap-in in Windows Server 2003 Domain Controller?
Schema plays an important role in Windows server 2003 active directory domain environment. As it contains all the attributes of the object classes by default Windows hides the Schema Management snap-in. However if administrators want to modify the schema they can manually register the snap-in in order to get the console. If you are an administrator you can register Schema Management snap-in by following the steps given below:
Logon to the domain controller with administrator account.
Click on Start button.
From the start menu click on Run.
In the Run Command box type CMD and press enter key.
In Command Prompt window type regsvr32 schmmgmt.dll and press enter key.
On RegSvr32 message box click on Ok button.
You can verify if the schema is successfully added by typing MMC in Run Command box from the opened console going to File menu clicking Add or Remove Snap-in from the menu and from the opened box clicking on Add button to get the list of all different kinds of available snap-ins. If you have typed the above command correctly you will get Active Directory Schema enlisted.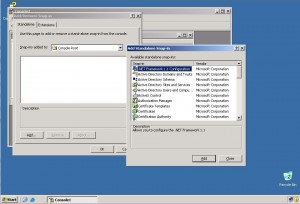 Note:
It is always advisable that you should not modify schema manually. There are many applications that do this automatically to get tightly integrated with the server. An example can be Exchange Server 2003 which modifies the schema as soon as it is installed.